Dating with a good marriage in mind, plus what healthy masculinity looks like, and a listener is involved with an ex-boyfriend. Clean Friendships That Last: Taking friendships to a deeper level, plus how to give your work meaning, and subtle ways to let a guy know you're interested. How to find quality friends, plus lessons learned from disaster dates, and the best ways to travel as a single. Clean Our Coffee Obsession: Questioning the coffee-saturated Christian culture, plus Ben Stuart on singleness as more than just marriage prep, and a listener is feeling awkward at work.
Making the most of your church, plus a woman navigates cancer, calling and singleness, and a listener is struggling with his masculinity. Forgiving the everyday things, plus the powerful story of forgiveness after being framed for a crime, and a woman can't get over jealousy of her friend. Clean Before You Get to Heaven: Things Christians should do before they die, plus how to brave life's sorrows, and a listener is having trouble moving on after dating heartbreak.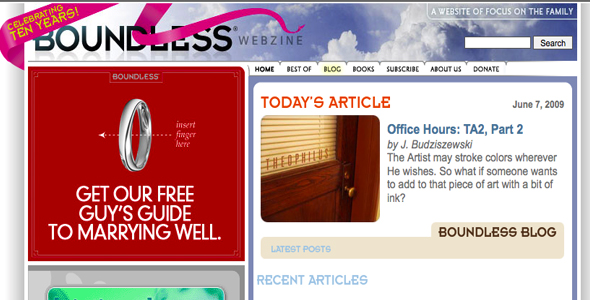 Clean A Solitary Christmas: Your questions about being single at Christmas, plus the story of a man's life-changing walk on Christmas night, and staff members' favorite holiday memories. Clean Loving Difficult People: Serving all types of people this Christmas, plus loving that person who drives you crazy, and a listener is worried about the ramifications of job-hopping. Clean Take a Break and a Bite: Team results from our social media and texting break, plus the power of the table in your home, and a listener is afraid to tell a date about his past.
Things Christians should stop saying or doing, plus when church gets challenging for singles, and a listener wants to ask out his small group co-leader.
iTunes is the world's easiest way to organize and add to your digital media collection.
Clean Loving Your Family: Being thankful even when our parents frustrate us, plus Jessie Minassian on dealing with family around the holidays, and a listener can't land a job. Debating dating deal-breakers, plus figuring out your money type, and a listener wonders if masturbation is OK.
TV and your Christian witness, plus a man who used to think hating Muslims was justified, and a counselor helps a listener tell if her date's being honest. Emergency strategies for when you face temptation, plus Pastor Levi Lusko on moving on after sexual regrets, and should a listener ask a girl out What's behind our feelings of worry, plus how Max Lucado deals with anxiety, and a listener wonders how to tactfully ask a guy why he got divorced.
Clean Reach Your Friends: Discussions with friends who aren't into Jesus, plus Josh McDowell on why evidence didn't bring him to Christ, and are there any pure guys out there? Clean I Doubt It: Dating and marrying someone of a different race, plus why doubting your faith can strengthen it, and a listener is having problems living with an unbeliever. Clean Cushions, Bread and Ghosts: The ultimate in lame dating tactics, plus Dr. Ernie Baker on choosing a spouse, and a listener struggles to reconcile her boyfriend's checkered past. Strategies to make the most of your life, plus part two with the Mully family from Kenya, and what to do if your crush isn't single.
What God's been teaching us lately, plus the man who fathers the world's largest family, and is it smart to date through anxiety and depression? Clean Grieving Suicide and Loss: Our panel gets personal about loss, plus Albert Hsu on surviving his dad's suicide, and what to do if you can't connect with your parents on a deep level.
Clean Leading From Behind: Moving up on the job as a millennial, plus Clay Scroggins' journey from intern to megachurch pastor, and what to do with a friend who is annoyingly arrogant. The history of "The Boundless Show," plus listeners' favorite interview of all time, and staff members read listener impact letters. Clean First Comes Love: Prioritizing life's milestones, plus Biola University's president talks kindness and life in the real world, and a shy girl wants advice for getting noticed by men.
educated dating sites!
weve been dating for 6 weeks.
blackgirlsareeasy dating.
A Guy's Guide to Marrying Well (bopersjuthoban.tk) | Total Rip-Off (Paulman's blog).
Common traits of healthy singles, plus Rachel Cruze shares savvy financial strategies, and is it futile to invest in a guy you like in another country? Clean Sins of the Fathers: Breaking cycles of generational dysfunction, plus Craig Groeschel on inspired decision-making, and what to do when your friend's in a toxic relationship. Clean The Living Dead: Why your non-Christian friends don't care about Jesus, plus Randy Frazee on what happens after death, and untangling your past to make today's decisions. Clean Judge and Jury: What judging others looks like, plus Michael Daniels on becoming Mr.
Polyamory and emotional literacy - Kel Walters - TEDxUTA
Right, and when does texting someone of the opposite sex cross a line? Clean Surviving Your Twenties: Lessons learned in our 20s, plus Trevin Wax decodes sneaky cultural myths, and two listeners want to date someone younger. Clean Time to Date?: What it means to be an adult, plus standing strong in today's culture, and parental pressure to not date someone previously married. Clean Party Like a Christian: Clean Men on Marriage: Manhood and marriage, plus standing strong in a hostile culture, and is he wrong to be intimidated by her male friends?
When social media and friendships collide, plus why Christians should be the happiest people on earth, and are close friendships with non-Christians possible? The pressure of finding a calling, plus Marshall Segal looks back on singleness and dating, and what to do when a friend is getting too close to a married man. Finding margin in your day, plus Leslie Leyland Fields connects faith and commercial fishing, and a listener grapples with her boyfriend's Instagram fail.
Clean Shaping an Authentic Faith: A generation finds its faith, plus Laurie Polich Short gives us new eyes, and are contentment and desire mutually exclusive?
Boundless Webzine
Clean Play the Man: How single young adults are portrayed on TV, plus Mark Batterson asks men to get in the game, and a military man is unsure if he should be dating. Clean More Than Sorry: Why dating is such hard work, plus when sorry isn't enough, and a listener grapples with a sexually-transmitted disease. Making prayer practical, plus Paul Miller on the messy and mundane prayer life, and a listener is torn between two guys.
Clean Joy on the Job: Helpful hacks for workday success, plus strategies for customizing your career, and a call to missions has a listener confused. Clean This Is Your Time: Why it's a great time to be a Christian, plus Darlene Zschech on experiencing dynamic worship, and relational help for a guy with Asperger's.
Clean Easter Every Day: Letting Easter impact your entire year, plus the reality of leaving and cleaving, and a listener debates going back to school. Lame reasons for skipping church, plus why Christianity isn't meant to be easy, and our listener tries to decipher a guy's intentions. Glorifying God on the job, plus a fresh look at retirement, and what's a right view of rebound relationships?
Clean Lent for Dummies: Making healthy habits attainable, plus why Lent is good for all believers, and a question about God's will and our choices. Clean I Like Big Bibles: The religious fervor of men versus women, plus a walk through the grand story of Scripture, and being dumped for a lack of emotional spark. Saying "no" to cohabitation, plus why your chance of divorce could be almost zero, and encouragement for a relationship virgin.
Why your parents' sin doesn't define you, plus Josh and Christi Straub explain emotional safety, and a listener accepts her single status. When your parents' marriage becomes an idol, plus why men should value strong women, and a single mom is tired of being alone. Things you must talk about before tying the knot, plus Paul Batura dishes on famous adoptees, and advice on handling relational conflict. When your purpose is clouded by pride, plus Dan Dumas with a blueprint for young adulthood, and how to discourage a coworker's interest.
dating young single mothers.
Boundless webzine dating!
Discussing Dating | Racine Bible Church!

What to look for in a spouse, plus Noel Heikkinen shows you how to be free, and a listener wants advice on dating a new believer. Clean Marks of a Mature Christian: Clean The Optimistic Something: Recapping a year of big changes, plus an something saint teaches us how to trust, and help for a listener with OCD. Clean Evangelicals for Life: Why being pro-life is bigger than saving babies, plus Esther Fleece lingers in lament, and is it OK to pray for the gift of singleness? Clean The Kindness Challenge: Clean Best of Clean Making Christmas Meaningful: Clean Science and Eternity: When transhumanism meets the image of God, plus a Christmas trip to Adventures in Odyssey, and our listener has concerns about dating a woman with kids.

When dating is derailed by our own insecurities, plus musician Laura Story grapples with her husband's health, and the effects of mental illness on dating.




dating agency cyrano ep 5 dailymotion.
dating indiana glass!
Boundless webzine dating.
online dating bayern.
Boundless Webzine Dating | ВКонтакте;
Podcast Episodes | Boundless.
About the Guide?

Being remembered for what's important, plus how to be a good but not weird neighbor, and is it OK to play hard to get? Clean Fast and Furious: Signs your relationship is moving too fast, plus Scott Sauls on the joys of unlikely friendships, and a listener is in love with a non-Christian. Creating family wherever you are, plus a very Millennial way to do world missions, and our listener wants dibs on her BFF. Moving forward after a difficult election, plus Randy Alcorn on the purity principles he taught his daughters, and are your married friends giving up on you?

When getting married makes you feel like a traitor, plus Bianca Olthoff listens to the Holy Spirit, and what if your date has an overwhelming personality? Honoring marriage as a single, plus rocker Lacey Sturm trades suicide for life in Christ, and should you dump the friends who are dragging you down? Clean The Hot Wives Club: You can have more than one calling in life, plus Margot Starbuck on living loved in cutting-edge community, and a listener is trying to let a girl down easy.

romildzumneo.ga

A Guy's Guide to Marrying Well (Boundless.org)

Clean Voting with Confidence: Clean An Unlikely Convert: Are single men overlooking the women at church? The lowdown on living with your parents, plus Kathi Lipp keeps us clutter-free, and a question about dating a divorcee. Clean Not What I Expected: Navigating the myth of the One, plus a speedy interview with Lisa, and can one listener overcome bitterness from his disability?

Clean Winning at Being Single: Applying truth in everyday situations, plus Lina AbuJamra on the single life as God intended, and can our listener get the attention of a young widower?

Categories

Clean Clear Your Calendar: The benefits of simplifying your schedule, plus Cynthia Tobias defends strong-willed women, and should our listener end a long-distance relationship? Reasons we put off marriage, plus Lisa Harper trusts a bold Jesus, and advice for encouraging a mentally ill friend. Clean Finding Your Place at Work: More on the power of today's single woman, plus Jessica Stollings on Millennial strategies on the job, and a question about saying "no" to a relationship.

Clean Saving for the Future: Savvy retirement planning, plus strategies for making compound interest work for you, and telling on a married man. Clean The Next Billy Graham: Why being alone isn't a bad thing, plus a conversation with the next Billy Graham, and advice on how to handle doing church alone.